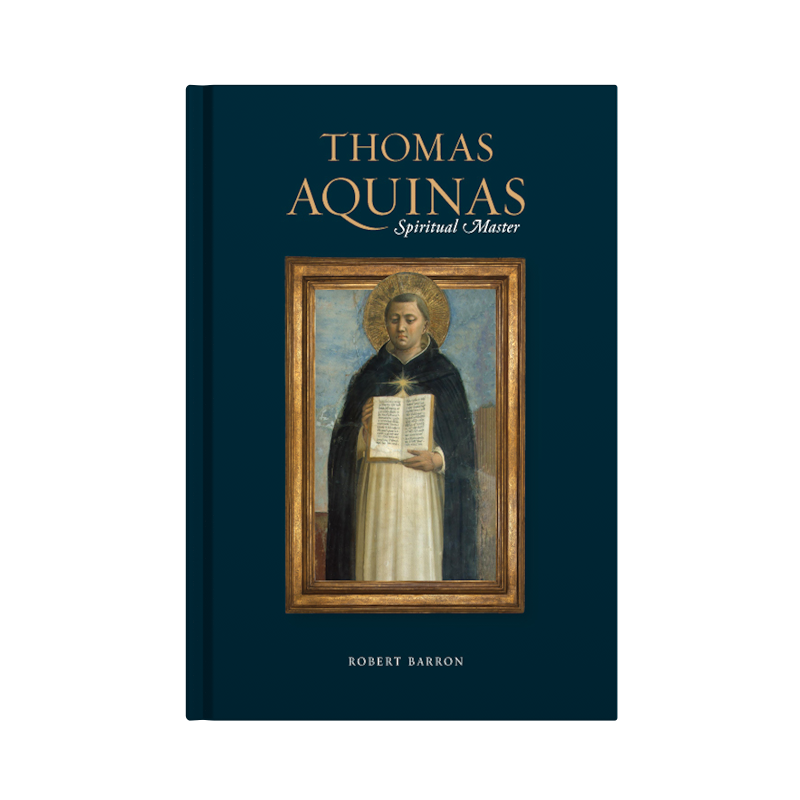 Thomas Aquinas: Spiritual Master
By Bishop Robert Barron

Published by Word on Fire Academic on August 1, 2022
Hardcover | 152 Pages | 6" x 9"
Retail Price: $24.95
Thomas Aquinas is widely considered the greatest and most influential of Catholic theologians. Yet too often his insights into the nature of God and the meaning of life are seen as somehow cold, impersonal, and divorced from spirituality. In this award-winning book, Bishop Robert Barron shows how Aquinas' profound understanding of the Christian mystical life animates and helps explain his writings on Jesus Christ, creation, God's "strange" nature, and the human call to ecstasy.
"When one interprets Thomas merely as a rationalist philosopher or theologian, one misses the burning heart of everything he wrote. Aquinas was a saint deeply in love with Jesus Christ, and the image of Christ pervades the entire edifice that is his philosophical, theological, and scriptural work. Above all, Thomas Aquinas was a consummate spiritual master, holding up the icon of the Word made flesh and inviting others into its transformative power."
- Bishop Robert Barron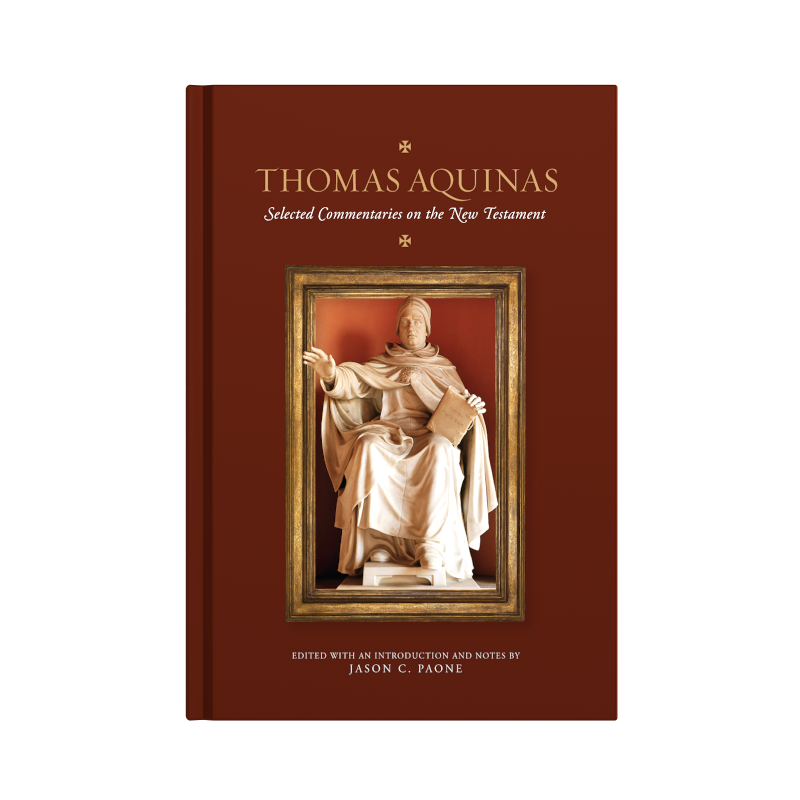 Thomas Aquinas: Selected Commentaries
on the New Testament
Edited By Jason C. Paone
Published by Word on Fire Academic on August 1, 2022
Hardcover | 448 Pages | 6" x 9"
Retail Price: $29.95 FREE BOOK BONUS!

Thomas Aquinas: Selected Commentaries on the New Testament is a selective anthology of Thomas Aquinas' New Testament commentaries, collected and organized to reflect the centrality of Christ in the saint's profoundly theological approach to the Bible. Complete with an introduction, explanatory footnotes, patristic source citations, and other research utilities, this volume offers an introduction to Thomas' biblical theology suitable for students and independent readers at any level of exposure to his thought.
This volume...
is the only selective anthology dedicated to Thomas' biblical commentaries.

is organized with a unique theological structure that reflects Thomas' own broader theological vision and emphases.

includes exhaustive patristic source citations, updated biblical quotations, improved translations and more!

Thomas Aquinas: Spiritual Master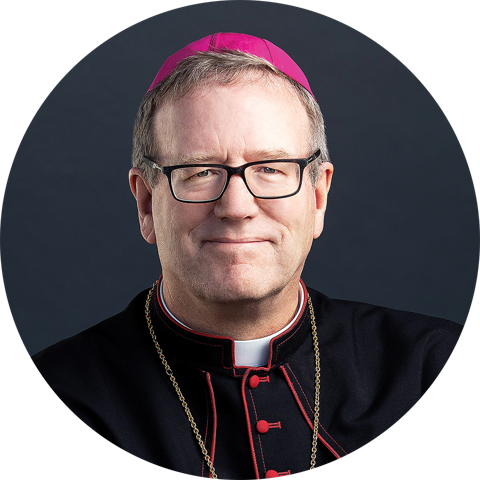 Robert Barron is Bishop of the Diocese of Winona-Rochester (Minnesota) and founder of Word on Fire Catholic Ministries. He received a master's degree in philosophy from the Catholic University of America in 1982 and a doctorate in sacred theology from the Institut Catholique de Paris in 1992.
Thomas Aquinas: Selected Commentaries
on the New Testament
Jason C. Paone is the Editor of Word on Fire Academic, a graduate fellow of the Institute for Human Ecology, and a doctoral candidate in historical and systematic theology at The Catholic University of America.
In addition to your FREE copy of Aquinas' Biblical Commentaries, You'll also get FREE digital access to Episode 2 of Bishop Barron's
Pivotal Players series!
CATHOLICISM: The Pivotal Players
Episode 2: St. Thomas Aquinas - The Theologian

St. Thomas Aquinas, the Theologian, used his brilliant mind and deep faith to argue that faith and reason are not at odds as they come from the same source – God. Thomas spent considerable time writing about how the Christian faith is supported by much evidence. In his masterpiece, the Summa Theologiae, he offers five ways of demonstrating the existence of God. Using reasonable arguments, Thomas confirms that faith does not have to be blind.
What People Are Saying about
Thomas Aquinas: Spiritual Master
"Robert Barron has a genius for identifying and articulating the human sources for our intellectual inquiry, and here that of Thomas Aquinas, and how his rich talents were transformed by a vibrant life of faith. Anyone introduced to Thomas in a way that missed his mind and heart will find here a fresh appreciation of his teaching as well as his inner life."

— David Burell, CSC, Theodore M. Hesburgh Professor Emeritus in Philosophy and Theology, University of Notre Dame
"Bishop Barron does a beautiful job of making the writings of Aquinas come alive for today."
— The Catechist's Connection
"Barron leads the reader beyond the technical theological language to the spiritual experience underpinning Thomas' writing."
"Spirituality with spine. . . . Barron's solid and accessible study is itself a fine example of what he admires in his master."
— Michael Downey, America
"Barron leads the reader beyond the technical theological language to the spiritual experience underpinning Thomas' writing."
What People are saying about
Thomas Aquinas:
Selected Commentaries on the New Testament
"Jason Paone has achieved a breakthrough in the study of Aquinas' biblical commentaries. Paone's selections make crystal clear the power and richness of Aquinas' theology of Christ and life in Christ. Along with opening up Aquinas' biblical interpretation to a broad audience, this magnificent book constitutes a major step forward for Thomistic studies and for the task of learning to read the New Testament as it was meant to be read: namely, as the transformative revelation of divine wonders."
— Matthew Levering, James N. Perry Jr. and Mary D. Perry Chair of Theology, Mundelein Seminary
"This unique "Aquinas Reader" is the best introduction available to Thomas Aquinas as interpreter of the Holy Scriptures and as biblical theologian. The selection of texts is judicious and the overall structure of a sapiential nature that deeply reflects the very heart of St. Thomas' theological vision. Contrary to modern conventional wisdom, Scripture actually was the very soul of medieval theology, and Thomas' Scripture commentaries display this fact in an exemplary manner—such that they indeed become a salutary incentive and invitation for contemporary Catholic theology. This volume is to be most warmly welcomed and should find its way into the hands of the avid Catholic Scripture reader, seminarians, priests, and also bishops."
— Reinhard Hütter, Professor of Fundamental and Dogmatic Theology, The Catholic University of America, Member of the Pontifical Academy of St. Thomas Aquinas and the International Theological Commission
"Thomas Aquinas affirms in his great work the Summa theologiae that theological truth derives from the Scriptures, as read and interpreted within the tradition of the Catholic Church. What some may not realize is that Aquinas also wrote copious commentaries on Scripture and sought in doing so to indicate the revealed truth of Christianity and to interpret the mysteries of the Christian faith with wonderful insight and vivid religious devotion. This volume brings together many of the key passages from Aquinas' scriptural commentaries that have to do with fundamental truths of the faith: the Incarnation, the humanity of Christ, his redemptive death, the mystery of the Eucharist, and the Christian life of grace. This work introduces one directly to Aquinas' theological genius and characteristic sanctity. It does so while opening the Scriptures so that with his help we can better see what is contained therein and revealed by God."
— Thomas Joseph White, OP, Rector of the Pontifical University of St. Thomas